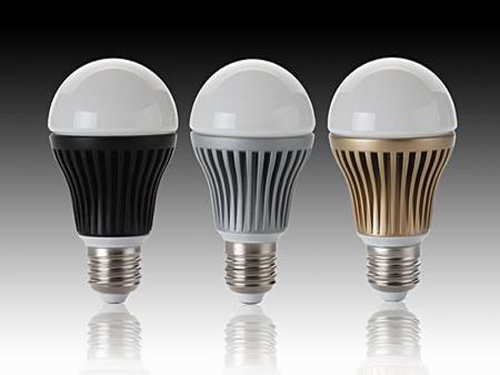 In the traditional promotion season, for consumers, these methods are discounts, rebates, and gifts. Brands and stores hope to attract popularity and increase sales through these forms. The momentary marketing policy has a positive effect on sales promotion in the stores. Many stores and merchants are also trying to change their marketing methods and services, and they have moved consumers from deeper appeals.

With the development of business development, the brand of lamps and lanterns has grown bigger and bigger, and some market-conscious lamp brands are no longer simply displaying products. Instead, they have put decoration, accessories, and furniture in place to create an overall environment for customers. The effects of lamps and home furnishings were felt in the field. This kind of environment and atmosphere can make customers feel the beauty more intuitively, and it is more likely to have a desire to purchase and be more accurate at the same time.

In many lighting cities, lighting stores, and lighting showrooms, the lighting brands have worked hard to create an experiential shopping environment in addition to the exhibition area and decoration. For example, a luminaire monopoly is equipped with a bedroom. The main light source, auxiliary light source, lamp pool, wall lamp, desk lamp, and night lamp are harmoniously and orderly. According to the introduction of the staff, the arrangement of the bedroom lamps and lanterns not only matches the bedroom lighting. The light design also reflects the characteristics of humanity and healthy light sources. In the lighting experience exhibition hall, the combination of crystal lamps and high-end beds, tea tables and chairs, and tea sets also form a comfortable bedroom and a harmonious tea room space.

Some of the lamps and lanterns brand stores are large in size, and they all have a living space experience area inside. There are also some lighting flagship stores that are directly set up as the lighting industry's overall scene-style soft store. The store uses all scene-style experiences, lighting products and furniture, and accessories. As one, people feel the light of a variety of expressions.

Light enterprise cross-border integration

Although the experiential marketing lighting industry has existed for a long time, it has not been popularized. Industry analysts believe that the exhibition hall covers an area that is large, and there is a need for someone to design the exhibition hall style, product collocation, and display. The overall cost is high. But now, the lighting brands began to gradually extend their product lines to homes, accessories, and soft clothing. The tendency of lighting brands to match their own furniture or design and produce their own furniture is becoming more and more obvious. How consumers like it can be sold together with lighting fixtures.

This integration of lighting fixtures and furniture is a trend, and there are also lighting fixture brands trying to launch the "home integration" model. It is reported that the current trend of the lighting industry is the brand from the mid-range to high-end design into the march, lighting, furniture integration is more and more obvious, many international brands began to integrate into the lighting showroom. At the same time, China's lighting brands began to attach importance to product design, sought cooperation with international artists, and combined artists' home works with lighting products, gradually becoming a trend.

In this regard, there are industry analysts believe that the cross-border lighting brand or for profit growth. The greatest benefit of cross-border is to let elements that are not related to each other penetrate and merge with each other, giving the brand a sense of depth and depth. With the increasingly fierce market competition, industries and industries have infiltrated and merged with each other. It has been difficult to clearly define its attributes to a company or a brand. Cross-border has now become the most popular word in the world, not just across industries. It is still a leap from tradition to modernity, from the east to the west, and this trend has represented a combination of cutting-edge attitudes to life and aesthetic methods.

Lighting custom comes out

With the fierce competition in the lighting market, consumer preferences are changing with each passing day. There are always a group of people who hope that the lighting they use is something that no one else has; there are always some areas where it is hoped that the lights used will be unique and able to represent the local culture. Therefore, in order to meet market demand, lighting products have also officially embarked on a "custom" road. The lighting brand selects different lighting modes and lamps according to different environments and users, uses different light source characteristics, creates an infectious space environment with appropriate illumination and brightness, and provides professional custom design services.

At the same time, in many lighting showrooms, many brands have made scene presentations. When consumers decorate their own homes, it is difficult to imagine the lighting effects. At this time, experiential marketing can give them reference and reference. In many lighting brand experience scenes, the furniture used is specifically tailored to the brand of lighting, and some of the matching furniture is simply not found in the furniture market.

It is understood that people are currently very concerned about the use of space, so strengthening the degree of freedom, personalized demand has become the focus of consumer attention, and precisely because of this, customized products are more favored by consumers, customized products are also Gradually increase market share. This is not difficult to understand, lighting brand in addition to the introduction of custom lighting services, but also launched with its custom furniture custom products.

It is reported that the price of customized lighting is higher than the spot price of the same level in the market, but the current situation is not too high. The price of a 5W 95mm*70mm crystal lamp on the market is basically more than 500 yuan, and the custom crystal lamp according to the material, the price ranges from 550 yuan to 1,000 yuan. Therefore, the prospects for personalized customization of lamps and lanterns are very broad. Customized products may have more space under the current market conditions, and have stronger anti-risk ability. They are also optimistic about manufacturers and consumers.

Home Window C leaning Robot




Home Window Cleaning Robot is usually used for cleaning ash, water stains, oil stain on both side of window. Home Window Robot need to connect power to use through by remote control. Window Robot Home Cleaning can reduces the difficulty and danger of window cleaning in tall buildings but more efficient with Two models (dry cleaning and wet cleaning). Window Cleaning Robot Amazon sale very popular,welcome to place order.
Outdoor Window Cleaning Robot help us clean outside window glass,its dangerous, Window Cleaner Robot For Sale ,welcome to send us enquiry.





Advantage of Robot Window Cleaner :

Window robot cleaning with three types for cleaning route.

Glass robot has folding handle to achieve slim body.

Voice broadcast to remind you.

Super suction is more suitable for Building Window Cleaning Robot.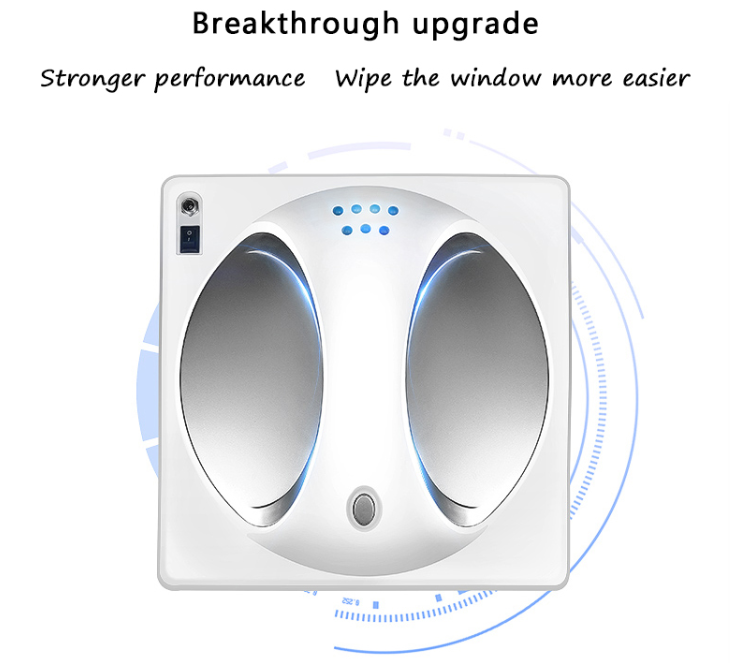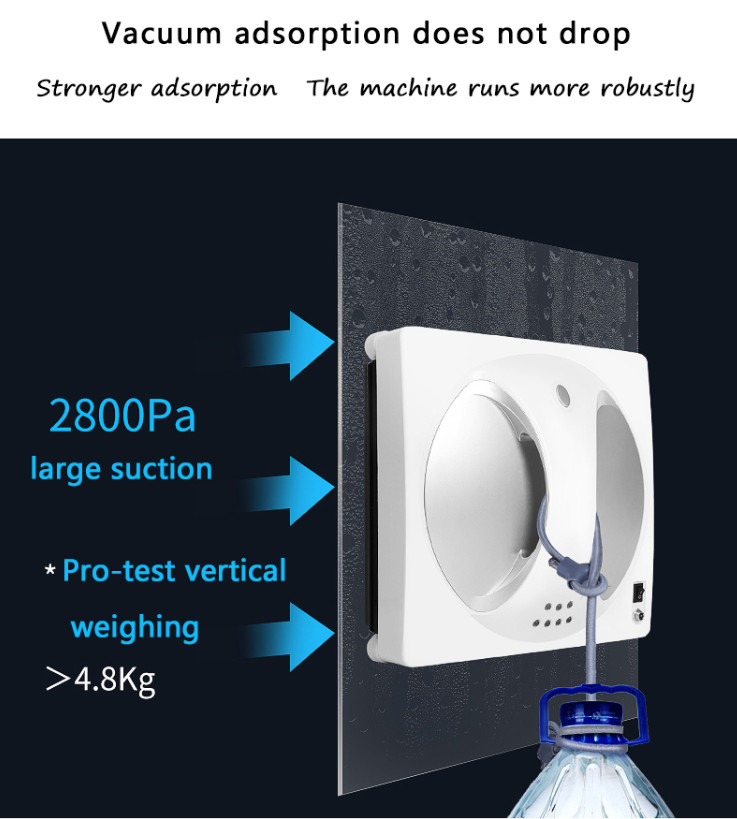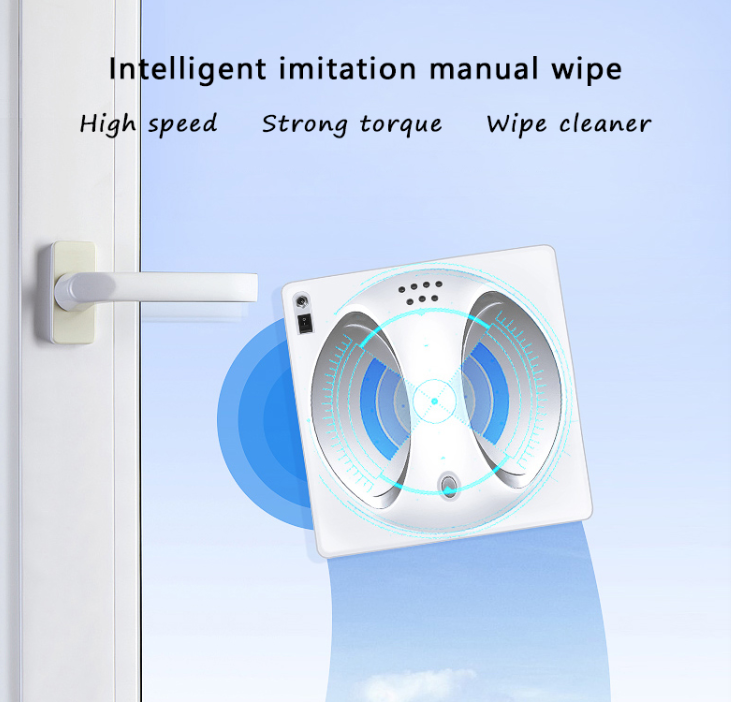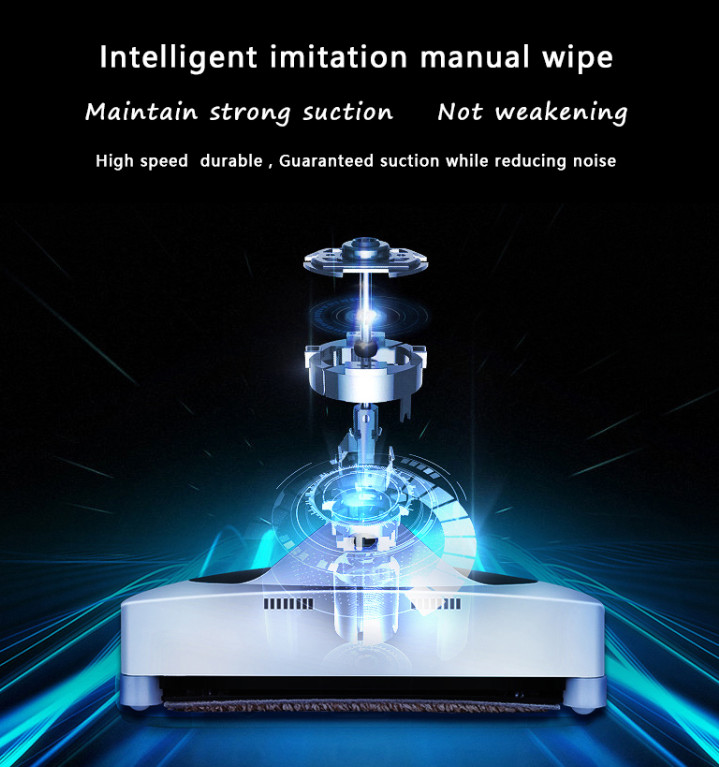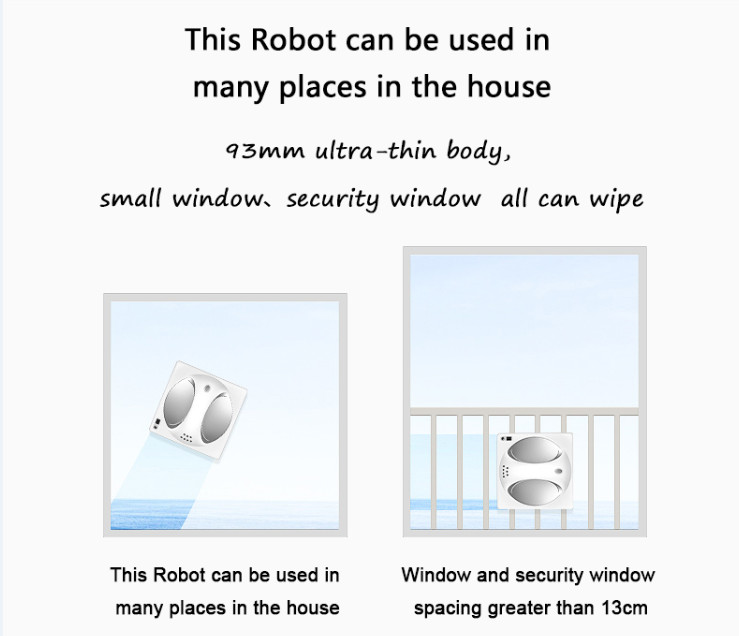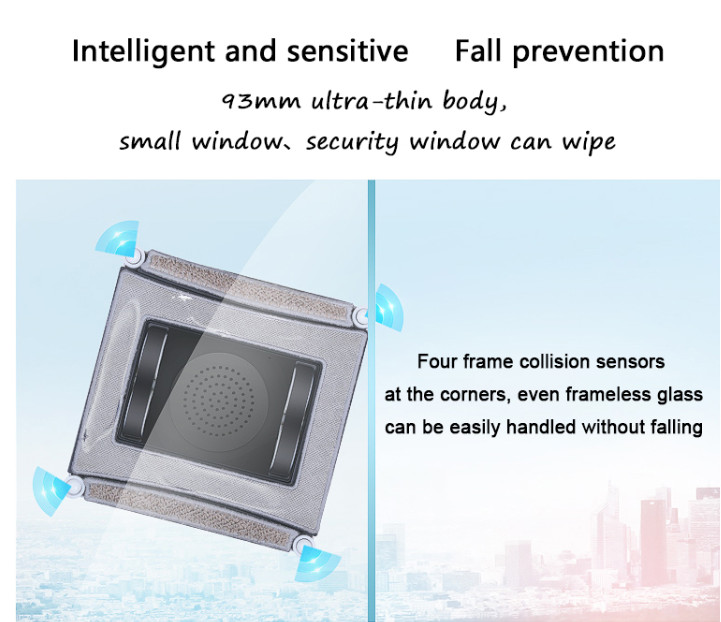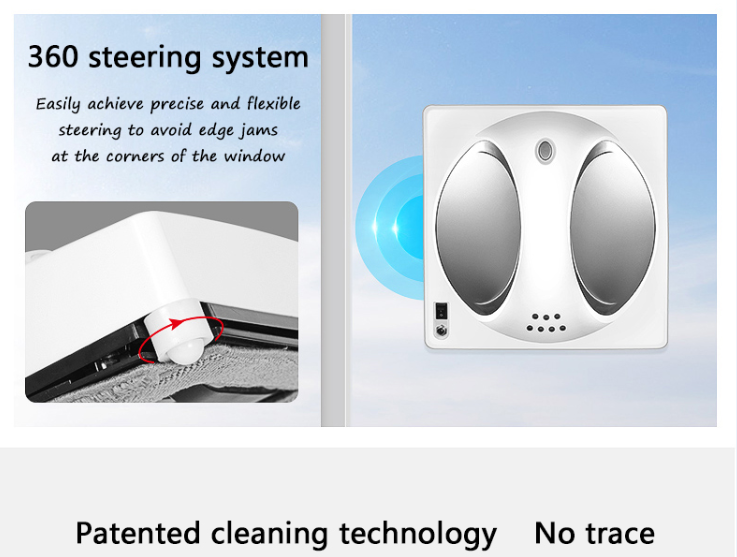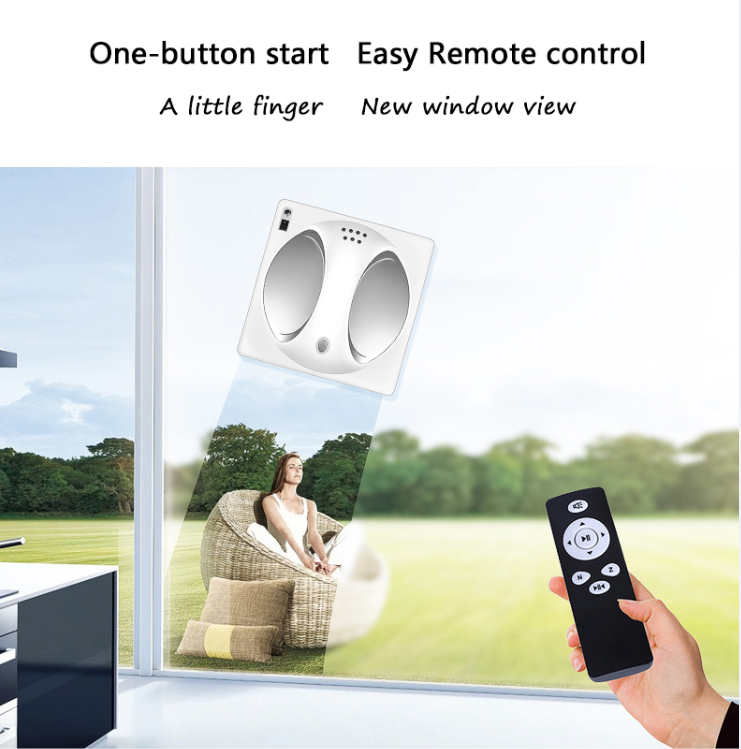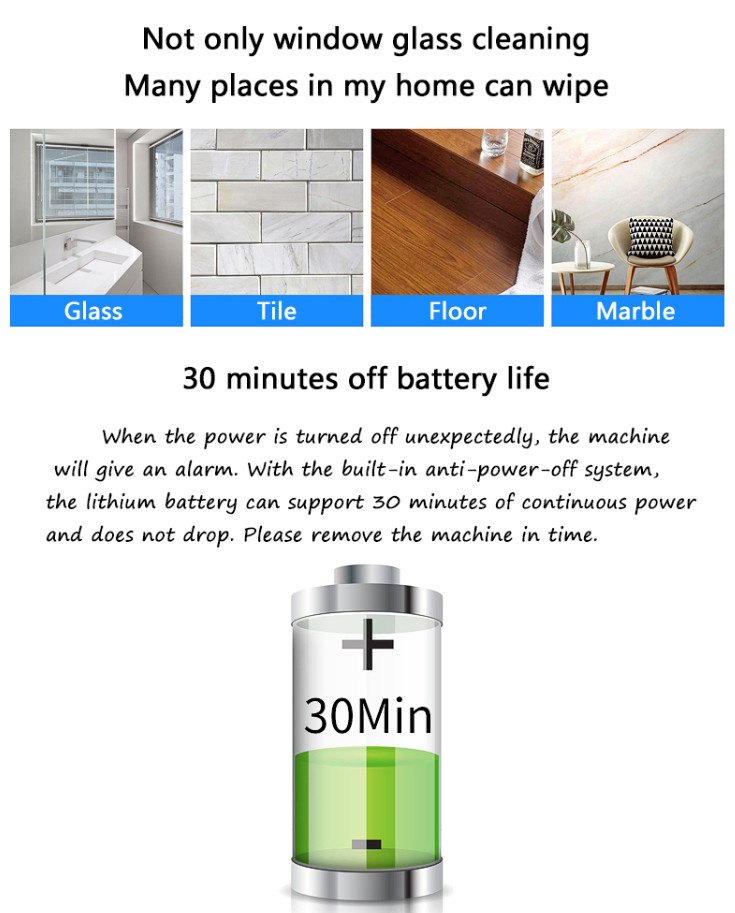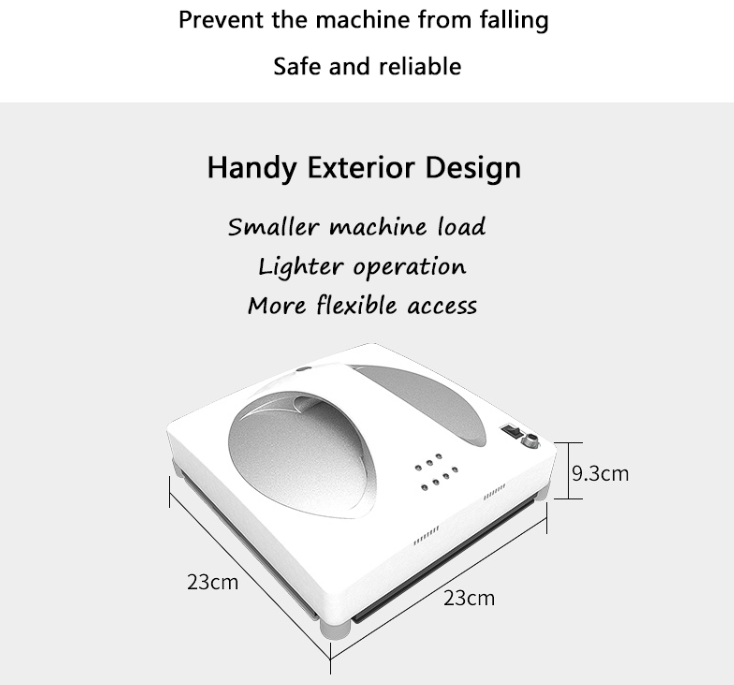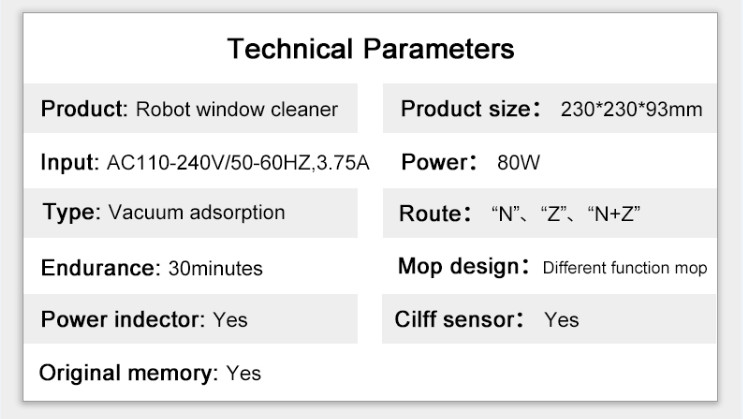 FAQ:

1.Can I place an order online?

Yes,please order from our online store aliexpress or amazon

2.How can I get some samples promptly?

Yes,we have stock

3.How about the payment terms?

T/T







Home Window Cleaning Robot

Home Window Cleaning Robot,Window Galss Cleaning Robot,Home Window Robot,Window Robot Home Cleaning, Window Cleaning Robot Amazon,Outdoor Window Cleaning Robot

Zhengzhou Bangmi Smart Technology Co., Ltd. , https://www.cleanwindow-robot.com