What's the lack of you in the hot download of the "Video and Audio Technology Special Issue" in November by the electronic enthusiast website!

The progress of technology is like a "catfish effect", and the reform of one technology will promote the development of another technology. In recent years, the development of smart devices has made it an urgent need to transfer the video of smart devices to LCD TVs and other "big screens". The development of high-definition technology has also made the requirements of this demand more complicated. In order to gain a deeper understanding of these, electronic enthusiasts interviewed Silicon Image, the world's leading provider of high-definition connectivity solutions, and a promoter of HDMI and MHL connectivity technologies, to discuss the latest solutions of Silicon Image to help you Learn about the latest connection technology.

WirelessHD® technology supporting wireless transmission of 4K video

As mentioned in the opening chapter, as more and more consumers connect their mobile devices to high-definition displays, shaping a large-screen experience for video applications such as mobile games, how to transfer video between the two devices becomes the key. According to the current development status, MHL is the most preferred option.

However, considering that wired connection may cause connection troubles during game play or use, how to use advanced wireless technology to transmit video has become the development direction, and how to ensure a seamless and reliable connection is the top priority.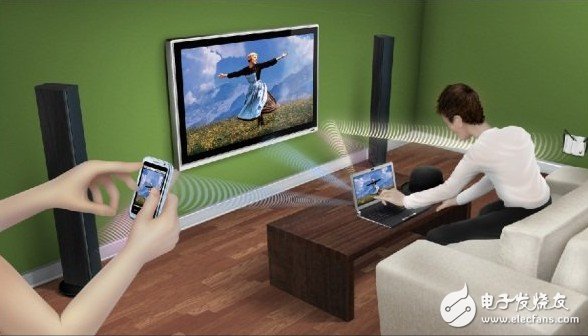 WirelessHD working diagram

Silicon Image has also launched products based on WirelessHD®, a wireless transmission technology.

What exactly is WirelessHD® technology

According to Jim Chase, Senior Marketing Director of Silicon Image, WirelessHD® is a 60GHz technology-based wireless connection optimization specification that ensures the highest quality HD video and ultra-low latency while ensuring its reliability. Silicon Image also launched the UltraGig ™ 6400 transmitter for the mobile terminal, applying WirelessHD® to the mobile terminal.

According to Jim 's introduction, Silicon Image 's UltraGig ™ 6400, launched in December 2012, is the industry 's first complete 60GHz WirelessHD® transmitter for mobile devices. It integrates a 60GHz RF transceiver, a baseband processor and an embedded antenna array into an IC package, which can meet the power consumption, size and performance requirements of today's smartphones and tablets.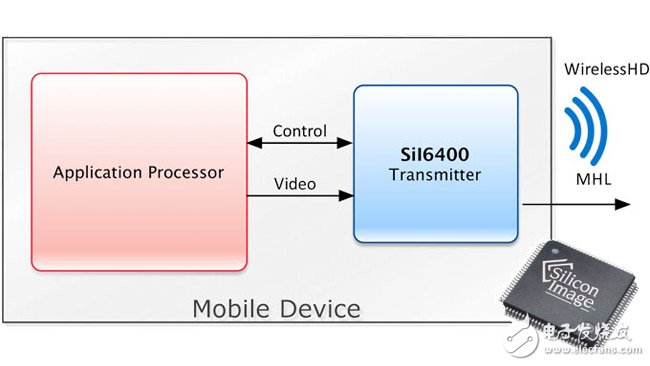 UltraGig 6400 working block diagram

The UltraGig 6400 transmitter establishes a full HD video connection between portable devices, large-screen displays, and receivers in the WirelessHD ecosystem, so it can achieve video quality comparable to wired connections without the need for any cables.

With the help of UltraGig 6400, consumers are protected from the small screen of mobile devices, but can get a life-like real-time gaming experience. WirelessHD can present a variety of high-definition interactive video applications and game console-quality games on the large screen, and does not require any cables and will not cause any delay.

The fully integrated, ultra-low-power 60GHz WirelessHD transmitter also has a built-in transmitter that conforms to the MHL® (Mobile High-Definition Link) 2.0 standard, which provides an optional wired connection when connected to a large-screen display that supports MHL , Provide charging function.

As consumers, with the current 4K video becoming mainstream, we may ask, can Wirelesss achieve the transmission of this quality under such high bandwidth transmission requirements?

Jim said that the WirelesssHD 1.1 standard supports a maximum data rate of 28Gbps, and this rate has exceeded the rate required to transmit completely uncompressed 4K video. Therefore, it supports the transmission of 4K video.

However, the products currently on the market support 1080p60 Full HD video. Jim emphasized.

For the development prospect of such a convenient and fast connection method. Jim believes that in the current situation where mobile devices are becoming an increasingly important part of people 's lives, as WirelessHD can connect these devices to large-screen displays, thereby enhancing their value, solutions such as UltraGig 6400 will be able to Consumers provide reliable connections that are ideal for a variety of entertainment and productivity applications. Therefore, the future development prospect of this technology is beyond doubt.

Of course, this method of wireless video transmission is not a patent of Silicon Image. Friends who have used Apple devices should have an understanding of Apple 's Airplay. What is the difference between this WIFI-based solution and WirelessHD?

Jim gave us an analysis of the differences in transmission schemes. He emphasized that the difference between WirelessHD and all other Wi-Fi-based solutions is that, because it uses the 60GHz spectrum, it has a relatively higher available bandwidth.

This higher bandwidth plus the advanced performance of the WirelessHD standard can achieve the highest video quality and reduce the delay to the subframe level. It is the only wireless solution that can match the video quality of a wired connection. This is beyond Airplay.


Metal USB memory sticks is stand out from common USB drives and have more than 70 styles metal USB Flash drives for your choose .such as Gold bar USB drives,USB Key shape series and Metal Racing card .. All of them can do laser engraved LOGO or silkscreen. It looks amazing with laser engraved LOGO or any message that you want to show. Metal USB memory sticks also classify many different materials , zinc Alloy,stainless steel and aluminum . They have different advantage. The Aluminum USB drives can do kinds of different colors .Metal USB is on behalf of high quality company gifts to market your brand ,contact with us for more information about metal USB series .

Metal USB Flash Drive,Micro USB Flash Drive,Metal USB Stick,Metal Flash Drive

Custom Usb Gift company limited , https://www.customusbgift.com